FROM THE PRESIDENT'S DESK
Welcome to the first issue of Sputtering Components' new quarterly newsletter, lON SCI™. This publication was created to keep our customers informed about Sputtering Components and to recognize our talented, experienced, and engaged employees.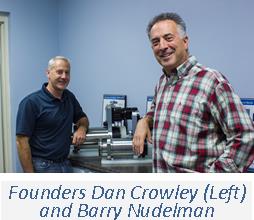 Dan Crowley and I began this business in 2001 and since that time, we have come to understand that our customers' success is the key driver of our own company's success. This statement represents an attitude that resonates throughout our organization. The dedication of our employees, the industry experience that they bring to their jobs each and every day, and their commitment to exceptional customer service have all contributed to these successes.
At Sputtering Components, we strive for excellence. We enjoy a reputation for high quality service, professional expertise, and personal involvement. We are committed to maintaining a high level of confidence and excellence in all we do by employing the right people in the right jobs. We recognize at Sputtering Components that our most important asset is our people. The guiding work principles of Sputtering Components and its people include customer service, teamwork, integrity and innovation.
ION SCI™ will be dedicated to keeping you informed of new products and innovations, introduce you to our employees, and to provide you with other noteworthy information. I hope you enjoy reading our newsletters.
Barry Nudelman
President
EMPLOYEE SPOTLIGHT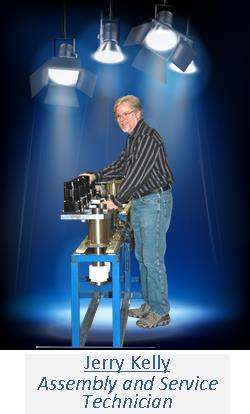 Jerry Kelly, SCI's first official employee, started with SCI on a part-time basis in 2003. During those first three years, Jerry helped Dan with assembly of the early cathodes.
"I sent Dan my resume every fewmonths." said Jerry. "The early jobs included everything from parts washing to assembly and crating. We did whatever was needed." It was a great fit with his 15 year background in the vacuum industry, which included working for Viratec Thin Films (now TruVue) and Sage Glass prior to coming to SCI.
Jerry's role at SCI has evolved over the years. He has played a critical role in training customers in end block maintenance by being the hands and face behind all the maintenance videos. He has traveled to many countries to help with service and training.
Jerry and his wife, Cindy, have been married for 13 years. He has two sons, one granddaughter, one grandson and enjoys shooting his bow and deer hunting each fall.
CUSTOMER SERVICE AT ITS FINEST
Sputtering Components Inc. is pleased to announce a service email address for all technical questions and product issues related to SCI products.
SCIService@sputteringcomponents.com will serve as a single contact point that will help to address our customers' issues and questions by connecting them to the technical support team who is best suited to answer their questions. The Technical Support and Engineering teams monitor this account to ensure you receive a response within 24hours of receipt.
Please be sure to send all technical or product related questions to this new account.
HOW RELIABLE ARE YOUR SEALS?
SCI follows a rigorous seal design with the use of a qualification system to ensure its seals can be warrantied for 2 years of service. All seal designs and seal suppliers undergo a strict review of physical attributes to ensure they meet our high standards for sealing performance, mechanical, electrical, and magnetic properties for both water and vacuum seals. Our qualification process includes the seals being subjected to 10,000,000 revolutions in our accelerated rotation testing station.
Once our seal designs and vendors are qualified for production use, a shipment sample goes through an identical test before being approved for use in our end blocks. This strict process and superior design allows us to offer our customers a 2-year warranty for most new end blocks.
Visit us at:
Touch Panel Korea (Booth #D05) from March 3rd-9th
China Glass (Booth #059/060) from April 11th-14th
SVC (Booth #313) from May 11th-12th
(Stop by our SVC booth to register for a great prize)
For the 3rd year, SCI is sponsoring a 4-person Team Challenge during 5K Fun Run and Walk at the SVC TechCon in Indianapolis. The first team across the finish line will win the traveling trophy., The first 4 members to cross the finish line for the winning team will also receive an additional award. For details, contact Nancy Ness at NNEss@sputtteringcomponents.com.
CHECK OUT OUR YouTube VIDEOS!
Swing-Duo™ Software Demonstration
Process Tools
SCI has developed two calculators to assist you
with establishing optimum processes.
Your request for a folder to be created has been sent. You will receive an email reply when the folder is ready for use.
This page is not shown on the website.
This page does not display on the website.
Changing the Water Seal SC
---
Changing the Water Seal MC
---
Changing the Vacuum Seal SC
---
Changing the Vacuum Seal MC
---
Bearings and Belts
The item you were looking for could not be found. Please use our site navigation to find it.
Thank you for your interest in our company and products. Someone will contact you in regards to your inquiry in 2-5 business days.
Products
SCI provides rotatable cathodes, complete e-CathodeTM lid systems and magnetics for systems of any width.
Applications
Architectural and Anti-Reflective Glass | Solar Technology | Display and Web Coating | Automotive and Decorative Coating

Architectural and Anti-Reflective Glass
The first large scale commercial use of rotary magnetron sputtering technology was in the field of large area glass coating. First introduced by Airco Coating Technologies in the late 1980s, rotary magnetron reliability has improved by an order of magnitude since their introduction. Today there are tens of thousands of rotary magnetron cathodes being used in the large area glass coating fields.

When depositing large area coatings, reliability is key. Coating campaigns in these types of coaters can last from one week to over one month between vents. The component lifetimes in rotary magnetrons are very well know making preventative maintenance an easy way to maximize reliability. Through advancements in design and quality control, some rotary magnetrons can be maintained onsite by the customer for many years of trouble-free operation.

Rotary magnetron technology is often used for reactive sputtering processes such as silicon nitride, silicon dioxide, niobium pentoxide, and titanium dioxide due to its improved arc rates and higher achievable power densities as compared to planar targets. For metallic layers, the primary benefit comes from higher material utilization. For both cases, cylindrical cathode sputtering reduces the overall cost of production while at the same time improving the quality.

---
Solar Technology
Rotary magnetron sputtering technology is used in all major forms of solar cell technology.
Silicon Based technologies
Silicon based technologies were the first commercially developed photovoltaic products and still maintain a dominant market share today. Though other processes are used for the production of the silicon, sputtering is widely used to produce back reflector layer (predominantly aluminum) and front contacts made from transparent conducting oxides (TCO). TCO materials reap substantial benefits in performance, economics, and quality from the use of rotary magnetrons.
CIGS and CdTe
Known collectively as "thin film solar" technology, these two types are generally used on flexible substrates such as thin stainless steel, though rigid substrates such as glass are still used.
In addition to the traditional aluminum and TCO coatings, these technologies employ additional sputtered layers such as molybdenum and intrinsic zinc oxide. The increased cost of molybdenum (relative to aluminum) has led most major manufacturers to choose rotary magnetron technology due to its improved material utilization. Intrinsic zinc oxide can be produced using mid-frequency AC sputtering at much higher rates than the traditional RF technology used with planar cathodes.
Solar Thermal
Solar thermal technology uses the heat of the sun to increase the temperature of a liquid such as water or oil. The heat from this technology is then used directly (such as with solar water heaters) or indirectly to generate electricity.
Typically, rotary magnetron sputtering is used to generate anti-reflective coatings (to allow to solar energy to pass through protective coverings (such as glass), reflective coatings for solar collectors, or in absorbing coatings which allow the maximum capture of solar radiation. These absorber coatings can be made from Molybdenum and Al2O3. Al2O3 sputtering by rotary magnetrons is advantageous due to the high power densities (and therefore deposition rates) and low arc rates resulting from the elimination of redeposited oxide on the target surface.

---
Display and Web Coating

Rotary magnetron (cylindrical cathode) technology is broadly used in display manufacturing, both for rigid and flexible display applications.
TFT-LCD technology makes use of TCO materials (predominantly ITO) to provide the transparent electrode on the front side of the LCD pixel. Additional materials, such as silicon dioxide are used as insulating, adhesion and encapsulating layers in the overall TFT stack. Rotary ITO has substantial economic benefits over planar ITO: production costs (equipment, material, energy) can be reduced by over one half as compared to planar ITO while at the same time improving film quality.
The same benefits hold true for flexible substrates. In additional to the cost savings and quality improvements, temperature sensitive substrates reap additional benefits from rotary cathode technology. Due to the more efficient cooling dynamics of the rotary cathode, users will be able to coat films at higher rates, while imparting less heat to the substrate.
---
Automotive and Decorative Coatings
Until recently, most automotive and decorative coatings were accomplished using technologies such as evaporation, cathodic arc, or planar magnetron deposition.
Several recent developments have allowed rotary magnetrons to penetrate this market. First, costs of rotary magnetrons have declined considerably over the past 5 years. For most automotive/decorative size coaters, rotary cathodes price comparably to planar magnetrons. This allows the user to take advantage of the higher material utilization offered by cylindrical cathodes without an increase in the upfront cost. In addition to the material savings, users are required to change targets far less often, in some cases as little as one-tenth as often as with planar targets.
Secondly, several advances in rotary magnetic designs offer advantages to the end user. The advent of stronger magnetics allows not only thicker targets but also lower operating pressures, which can increase throw distance and improve coating uniformity of three-dimensional substrates. Magnetrons are also available with a variety of sputtering angles or even variable sputtering angles by rotating the magnet bar with the Swing Cathode feature, which allows the user the ultimate flexibility when coating complex shapes.
In addition to the various rotary magnetron products, SCI offers the envis-ION™ Dual Magnetron Pre-Treatment Source for automotive and decorative applications. The DMPTS is capable of providing effective pre-treatment of plastic substrates as far as 200 mm from the source. This source is capable of operating using standard sputtering power supplies and at standard sputtering pressures. In some cases, the source may also be used to provide a protective SiO2 under/overcoat to decorative metals.
About Us
Sputtering Components combines a rural work ethic
with PVD expertise from around the globe.
Overview
Sputtering Components, Inc. (SCI) designs and manufactures equipment used for physical vapor deposition of thin films.
Partnering with OEMs and end users worldwide in industries that include architectural and industrial glass, solar technology, display and web coating, and automotive and decorative coating, we have more than 3000 rotary sputtering cathode (cylindrical magnetron) systems in operation at leading companies around the globe.
Components include external-mount end blocks or internal-mount end blocks and magnetics and complete e-cathodeTM lid systems.
Founded in Owatonna, MN USA in 2001, SCI corporate headquarters, accounting and human resources departments are located in Livermore, California. Sales, manufacturing, service and technical support are in the Owatonna factory.
We are a member of the Society of Vacuum Coaters (SVC), the Association of International Metallizers, Coaters and Laminators (AIMCAL), and the International Microelectronics Assembly and Packaging Society (IMAPS).
Why choose Sputtering Components?
From design to manufacturing, to service and R&D, Sputtering Components has the equipment and the experience to ensure you have the best and most reliable tools for your PVD process.
Design
SCI offers a variety of styles with common parts and specifications and can design for custom configurations as well.
Our designs are robust for a long operating life with minimal maintenance and lower cost of ownership. Mechanical parts are designed for long-term operation by reducing the stress concentrations to safe levels.
Dual lip water and vacuum seals ensure end block system reliability. End blocks work with non-proprietary targets, offering the user more flexibility. Magnet bar sputter angle is adjustable. Our patented contact plate power transfer eliminates the need for brushes, which wear out over time. All designs are field serviceable.
Our sputtering magnetics are modeled in a 3D FEA program to maximize utilization and uniformity while reducing the dead bands at the end of the targets.
SCI engineers use SolidWorks for 3D modeling to ensure optimal fit. Models can be shared with the customer and integrated into machine drawings.
We use advanced software to model magnetic fields and low pressure gas flow and water flow dynamics. Gas manifolds modeled are optimized using molecular and transition flow analysis software.
Manufacturing
SCI has the most modern machining equipment that uses the latest technology available. By manufacturing in-house, we have direct control over our quality and our schedule. Our manufacturing operation uses high-precision CNC machining centers to fulfill a variety of needs. Our capabilities include turning parts from 0.1" up to 30" diameter and milling parts from 0.1" up to 60". All equipment is regularly maintained and calibrated to ensure 100% repeatability and accuracy.
All lid systems are programmed by trained personnel and fully tested prior to shipping. Components are cleaned and assembled following a detailed job packet to ensure each order is built according to the customer requirements. Final assemblies are bagged and packed to ensure they arrive safely at the customer site.
Quality
SCI's quality control department is in a climate-controlled environment. We employ a coordinate measuring machine (CMM), which allows exact measurement of manufactured parts to accuracies of 0.0003 inches.
Both mechanical parts and magnetics are quality checked at the time of production.
SCI's quality program complies wiht the ISO-9001 standard.
Service and Support
Our staff walks with the customer through every step of the process to ensure a quality product that meets their needs. We provide service and support worldwide through our in-house service technicians and our conveniently located sales and service representatives. Click here to find a representative near you or contact our service department at SCIService@sputteringcomponents.com.
Testing/Research and Development
Sputtering Components has a dedicated R&D team. Using our in-house test chamber, we can perform quick-turn prototyping and test customized results. Customers can evaluate their process in SCI's test system to verify key parameters such as deposition rate, process stability and film properties.
Mission and Vision
SCI Mission
To maintain worldwide leadership by impressing our customers with:
Experienced and responsive employees who are eager to partner and build sincere relationships with them
Exceeding their expectations in providing quotes, models and drawings of customized solutions geared toward low cost of ownership
Delivering accurate, reliable, and cost effective equipment solutions faster than any competitor
Expeditiously addressing their questions, support, and service issues before and after a sale
Continuous improvement of products that innovate and retain our company as number one in our industry, and in their sight
SCI Vision
To provide our worldwide customer base with a full range of sputtering components designed to reduce their cost of operations through innovation.
Downloads
We are committed to providing you with the information you need to choose, operate and maintain Sputtering Components products.
FAQ / Education
Our goal is to proactively provide our customers with information that will help them be successful. If you have additional questions, please contact us at SCIService@sputteringcomponents.com.
Looking for a great career with competitive pay and benefits?
Sputtering Components is an industry-leading company with a professional yet comfortable work environment. Our current openings include the following:
Opportunity
Sputtering Components, Inc., a world leader in rotatable cathode and components sales, has announced plans to expand their sales network in the following territories:
Central America
South Africa
UK/Ireland
Singapore/Malaysia/Thailand/Indonesia
East Coast, United States
West Coast, United States
Description
As a representative or distributor of SCI products, you will:
Represent industry-leading products
Develop new customer accounts through disciplined prospecting
Maintain customer relationships within the assigned territory
Receive best-in-class sales and technical support
Receive a competitive compensation package
Obtain comprehensive training on all SCI products
Additional key accountabilities: Distributor
Provide service on all SCI products within the territory
Maintain an inventory of stocked spare parts
Manage transportation and import issues on all sold products
Perform consultative-based sales meetings
To Apply or for More Information
Contact Sputtering Components at sales@sputteringcomponents.com. Please indicate the territory you are interested in.
Contact Us
SCI's global distribution and technical support system provides you with outstanding sales and service. For service and technical support, please contact us at SCIService@sputteringcomponents.com
This field is not displayed.