News & Events Archive
October 5, 2016
Sputtering Components, Inc. Reports a Successful Glasstec 2016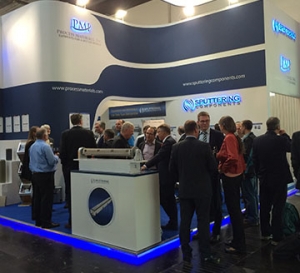 Barry Nudelman, Dan Crowley, John Schmeling, and Scott Grubb along with several SCI representatives from Germany, China, Spain, and Korea attended the 2016 Glasstec show in Dusseldorf, Germany from September 20th - 23rd, 2016.

"This was really a great show for SCI," said John, Director of Sales. "Year after year, we have continued to increase our presence at this very important glass market show. Our expanded space allowed us to highlight some of our newest products like the RAM-Bar™ and CM-Series™ External End Block. We had excellent meetings, met some new, potential customers, and enjoyed catching up with old friends."

One of the highlights of the 4-day event was the reception held on Wednesday evening. "We had a fantastic turn-out and such a great time talking with so many people. It's obvious that we are well respected in the industry and are so grateful for all our customers who support us," said Barry Nudelman, President of SCI and PMI.

Many thanks to everyone who attended and to those who helped make this such a success!
Subscribe to our newsletter
---
To signup for future newsletters, click on the subscribe button to add your details.
Sign Up Now